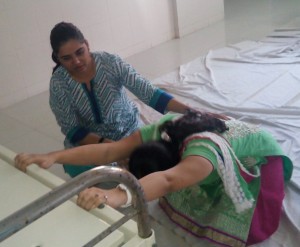 Becoming a mom is a dream every woman has… When the dream comes true and pregnancy sets in, it comes in with a whole lot of emotions, questions & doubts in the woman's mind.
Considering this beautiful phase of a woman's life and the special care it needs, ReLiva launched its Antenatal-Postnatal super-specialty clinic – FabMoms – an exclusive center dedicated to cater to the women's special needs around motherhood.
Being a certified Child-birth Educator, I get to meet a whole lot of expecting mothers as they come in for consultation. While the ultimate objective for each expecting mother is the same – attain best health for them-self and her baby, the doubts and concerns remain innumerable. My chief job therefore is to understand their anxiety, concerns and analyse their current condition so we can extend the best possible support and help them overcome their problems and discomforts owing to pregnancy or new motherhood.
An expecting mom read about FabMoms in a newspaper and inquired for Antenatal Services. On providing the details, I was scheduled to see Indu, a dentist by profession. After the detailed first consultation, evaluating various parameters of her health and pregnancy reports, we decided to start the sessions from the next day.
Sometimes it takes only a single meeting to strike a bond. That is what seems to have had happened – my first session with Dr. Indu had created a special connect between us. Though not a regular exerciser, she was a happy & self-motivated mother to-be.
She was attentive, committed and performed all the exercise forms given to her with an amazing spirit. She had real zeal & enthusiasm to perform all forms of pelvic floor strengthening, core strengthening, upper & lower body progressive strengthening exercises. I would enjoy taking her sessions for she was a perfect example that pregnancy is not a disease and does not need to be treated like one. It is simply a physiological change of state & you should do everything that your body & baby allows you to.
Dr. Indu completed the basic ANC module & continued with the subsequent pregnancy fitness sessions as advised by me along with her profession – managing all of it beautifully alongwith her advancing pregnancy.
As her EDD (delivery date) approached, after a regular check-up, her gynaecologist suggested to resume the ANC exercises UNDER SUPERVISION as the baby had taken an ideal position to appear in the real world. The mother to-be was informed to keep ready for labor within the next 3-5 days. She was suggested that she was surely to benefit if she would do bearing-down exercises under close supervision at this stage.
So I again got a call from her that she wants to take 2 – 3 sessions of Pregnancy Exercises under my supervision.
As anticipated, this mommy to-be was beaming with enthusiasm & some obvious nervousness with the thought of welcoming her baby soon enough. She did her bearing-down exercises wonderfully well. As decided we were going to meet for a session, the next day. But the very next day I received a text stating, "Hey doc, already in the hospital…Hoping to deliver soon!"
She stated her experience with Reliva so beautifully for us…She says, "I have never been too much of an exercise person, but ever since joining FabMoms; I have looked forward to come back for every session. My doctor has been exceptionally helpful without doubt. Their expertise along with the care & warmth makes 'FabMoms' definitely worth."
To share such beautiful journeys makes me remember & experience the wonderful relationship I had with this 'would-be mother' & how an ANC program can be so helpful for the expecting mothers; helping them not only have a beautiful pregnancy & an easy labor and delivery but also a faster recovery thereafter.
Contributed by : Dr. Anuradha Mandlekar (PT), certified Child-birth Educator, MPT, ACLS/BLS