Antenatal – Pregnancy Care Class for Couples
You can attend Garbh Sanskar for Pregnancy / Antenatal Class for couples in Nerul, Kharghar, Navi Mumbai and Thane for a happy & healthy pregnancy and easier labor.
"Guidance was provided on how to deal with different trimester and different phases of pregnancy" says Mrs. Deepti Sejpal, while Mrs Meenakshi reacted "The session was highly informative and the discussion on pregnancy problems was great!" after attending the Garbhsanskar Class with FabMoms.

FabMoms brings to you the best of antenatal care in a single, one-time class.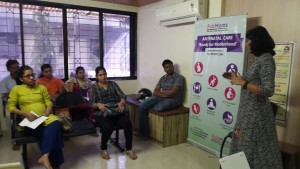 3 hour interactive session with the experts
Attend as a couple
Scientifically proven and medically backed advice
Use of Multimedia, Videos, Handouts as reading material for enhanced learning
TOPICS COVERED:

Session 1
1. Fetal Development : Understand the development and growth of your baby during the nine months of pregnancy and how it is affecting your body.
2. Garbhsanskar & Pillars of Healthy Pregnancy : It is proven that foetus can hear the sounds from mother's womb & her surroundings and also responds to them. Understand the Pillars of healthy pregnancy to ensure a head-start for your baby's health and happiness within the mother's womb.
Session 2
3. Pregnancy and Exercising safely : Learn the benefits of supervised exercises during pregnancy. Practice pregnancy exercises to help your body to prepare for delivery, Reduce stress and anxiety.
4. Labor and Child-birth : Fear comes naturally as you head near the delivery date! Understand the benefits of prepared labor & relaxation techniques and get ready for child-birth; physical and emotional recovery after child-birth.
Admission details:
Duration:  1 Day
Limited seats. Admission on first-come-first-serve basis
Garbh Sanskar (Antenatal/Prenatal) Class conducted in Hindi/Marathi and English Language
Prior Registration mandatory. Strictly no walk-in allowed.
For Registration & Online Payment Call us on +91-9920991286
Batch Details:
Classes at Nerul / Kharghar / Thane
Saturday,  2 pm to 5 pm
Only 10 couples in a batch
Admissions Open
Fees:
Couple Fees : INR 2500/- (Includes Reading material + Links for Exercise video on email + Pregnancy Tips & Advice emails + 500/- voucher for FabMoms prenatal Programs)
To find out more or to Reserve your seat for the Garbhsanskar Antenatal class at a center near you, call 992099 1286 right away.